Latest update October 3, 2021.
How to buy a house from ThaiLanna Home and get land in Thailand.

House ownership in Thailand.
Foreigners can safely buy and own a house in Thailand completely in their own name, without any restrictions whatsoever, especially if you already have land in Thailand available. Moreover the landowner and houseowner can be 2 different persons.
This can be achieved through a separate agreement to be registered with the competent authorities.

For example, a foreigner can be the legal houseowner while a person with Thai nationality owns the land. The houseowner is legally allowed to move the house to another location. Good news is that ThaiLanna Home houses ARE largely movable.
However in nearly all situations, foreigners are unable to own land in Thailand directly, although foreigners can take out a legally registered lease in their own name that offers them security throughout the duration of the lease. Typically an initial leasehold will be taken out for a period of 30 years. Under certain conditions this lease can be renewed at the end of the lease period. By law this leasehold CANNOT be cancelled during the lease period.

You can contact us -or consult a qualified legal professional- if you need additional information and more legal alternatives. On the Internet there ia also a lot of information available about this subject.
Below our no nonsense standard contract for a teakwooden house: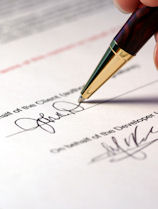 No:
Date:

CONSTRUCTION CONTRACT TEAKWOODEN HOUSE

This contract is made between ThaiLanna Home Co., Ltd, here in after called "CONSTRUCTOR"

and
…………………………………………………… here in after called "BUYER".

Both parties agree to the following:

Constructor will construct a teakwooden house, model and details as on appendix A (...  pages). The house will be partly pre-constructed in constructor's factory, there-after it will be de-assembled  and transported to the final location, …………………….
The appendix A (...  pages) is deemed as an integral part of this contract.

The construction will start within 2 weeks after receipt of first payment at your land and at constructor's factory and will be ready for shipment to …………………. within 2 month after construction has started.


Price Thai Baht .................


Parties agree to payment-terms as follows:

25% upon signing contract.
20% when the foundation at buyer's land is ready.
20% when structure is ready.
15% when roof is ready (roof-tiles will be placed at final location).
10% when the house is ready to be transported to final location.
10% after the house is finished and approved by buyer.


Constructor agrees to guarantee the work for 1 year after the house is completed.


The Constructor agrees to be responsible for tools, equipments, machines, accessories, including materials and devices having quality adequate to work , including the quality of labors which appropriate to the hired work in order to complete all jobs within the due.


Each clause of the contract is independent. Should any part of the contract be ineffective, it should be deemed that other parts are still effective.


This contract shall be interpreted by the Laws of Thailand. The courts of Thailand shall have exclusive jurisdiction in the event of any dispute out of this contract.

Both parties have read and understood the entire substance of the contract and hereby signed their names in presence of witnessesin Chiang Mai, Thailand on date ………………………


Signed …………………………………… Buyer                             Signed …………………………………… Constructor

           (……………………………………..)                                          (………………………………………)



Signed …………………………………… Witness 1                       Signed …………………………………… Witness 2

           (……………………………………..)                                          (………………………………………)
© 2004-2021 ThaiLanna Home Co., Ltd. Chiang Mai & Phrae, Thailand. All rights reserved. Last update October 3, 2021 .